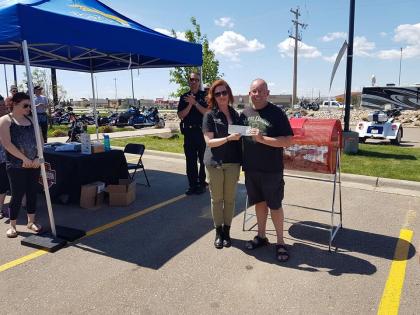 The Law Enforcement Torch Run for Special Olympics Alberta Flame of Hope raffle raises money for sports programs that benefit athletes with intellectual disabilities all over Alberta.
This year the 2017 Flame of Hope of Raffle gave ticket holders the opportunity to win one of three Harley bikes and raised more than $140,000 for Special Olympics Alberta.
On Saturday May 27, Special Olympics Alberta held the draw at Harley- Davidson Gasoline Alley at 37 Petrolia Drive, Red Deer with a barbecue.
Special Olympics Alberta-Red Deer athletes and the general public witnessed the draw for the winners for the 2017 Harley-Davidson FLHR Road King, 2017 Harley-Davidson FXDB Street Bob, and the 2017 Harley-Davidson Sportster XL883N Iron.
WINNERS
1st PRIZE 2017 HARLEY-DAVIDSON FLHR ROAD KING
Winner: Jenn Adams
Winning ticket number: 7862    
2nd PRIZE 2017 HARLEY-DAVIDSON FXDB STREET BOB
Winner: Brian Busch
Winning ticket number: 2275
3rd PRIZE 2017 HARLEY-DAVIDSON SPORTSTER XL883N IRON
Winner: Eric Leeks
Winning ticket number: 1150